"I worked very hard to achieve something that wasn't my truth, my perception was conditioned by external factors and once I managed to achieve everything I wanted and had imagined I realized that I did not feel fulfilled, I felt lonely and empty as I did from the start, but that path was transformed in something bigger, at that moment I couldn't see it and now I can see it, it was the path to awakening, healing, transforming and reinventing myself internally, and the revealing of the way to my evolution and my freedom of being. My priorities changed.". Mirtza Morales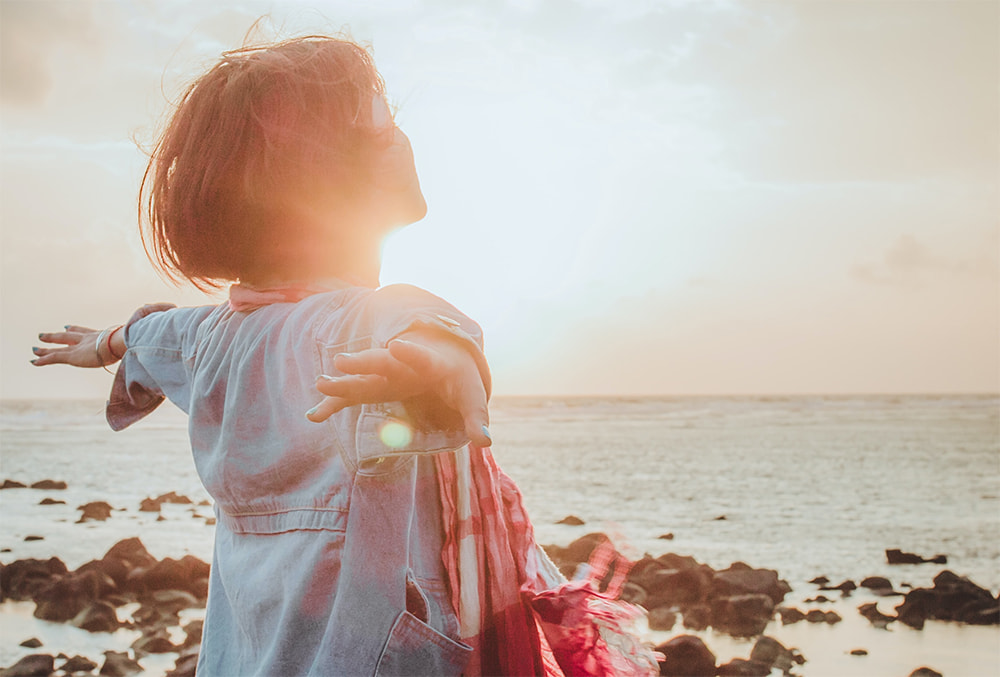 What does the freedom of being look like?
When we hear the word freedom we can usually associate this with having what we lack to be free, to do as we please, or to be heard, but we rarely relate it to the freedom of being, simply to be who we are from a calm place, from the art of doing nothing, or from not being seen or heard all the time.
The year 2020 led me to meditate on this concept where in appearance we were free to do anything we wanted to, but being confined in our houses and in introspective was the only reasonable option at the time in where we lost our "freedom". Meditating about the situation I have concluded that freedom is nothing more than the communion with ourselves, with our fears, with our anxieties, and with our challenges. Only the work of inner realization, awareness, cleaning our reality, elevating ourselves in our actions, communicating our truth, and living in synchronicity with what we say and how we act, will give us the happiness and internal satisfaction that we need in our lives to manifest from within and not through all the external factors that make up our reality and limit it, being the prisoners of a result.
I have learned to be present and choose myself in every situation in my life, I showed up at the commitments I have made to myself to take care of my spiritual, emotional, and physical well-being, such as, getting up every day at 5:00 am to meditate before my children wake up and start my routine, I choose which relationships to cultivate and to which to give it the distance they need, I also have learned to listen to my body when I need to rest and eat healthy. Committing myself and to be present has led me to find my voice, my truth, and my freedom. To be synchronized with what I feel, speak and manifest. Now I persuade experiences that are aligned with myself that make me feel optimized, alive, fulfill, and in communion with all the beauty around me, being the creator of that universe, even if the conditions outside are not the most favorable because of the challenges that the year 2020 has brought.
What to do when the path we choose is not the healthiest, does not resonate with our souls and the results are not aligned with ourselves?
Once again, we might need to accept and embrace obstacles in our lives rather than plugging them through comfort, fame, money, and material possessions. Pain, deprivation, and losing everything to start over brings us back closer with ourselves, allows us to start from scratch, gives us a new opportunity if we know how to take advantage of it, brings us closer to understanding, healing, the truth of our essence, and the freedom of being.
UNTITLED BARCELONA brings to you the manifestation of the freedom of being through our collections and our writings. We hear the call of individuality and authenticity of each being and put it into motion, synchronized with a universal message that resonates with every human being who has learned to listen to the call to do it differently by being true to themselves. We support you in your process in harmony with who you are and present to the world, for this reason, our collections are unique, authentic, and different. We do not define them as a trend or what you are supposed to have to be happy, you define it, your way, and your process to shine in this world! I invite you to visit our website so that you discover what piece resonates with you and our social networks so that you vibrate our soul and our essence.